All passenger train services cancelled till 3rd May 2020 in view of COVID-19 lockdown

In continuation of the measures taken in the wake of COVID-19 lockdown, all passenger train services on Indian Railways including Premium trains, Mail/Express trains, Passenger trains, Suburban Trains, Kolkata Metro Rail, Konkan Railway etc shall continue to remain cancelled till 3rd May 2020. All ticket counters for bookings including UTS and PRS will remain suspended till further orders. There will be no advance reservation of train tickets including E-tickets till further advice, however facility of online cancellation will remain functional. There will be full refund for reservations made for the cancelled trains and full refund will also be there for those cancelling the advance bookings of tickets for trains not yet cancelled.




In a relentless battle against COVID-19, Railways transports 1150 Tonnes of medical items during lockdown across the country




Railways is at the forefront of India's battle against COVID-19, and is ensuring seamless transportation of medicines, masks, hospital items and other medical commodities on priority through its time-tabled parcel train service. Till 18th April 2020, Railways has transported 1150 tonnes of medical items across the country.
To ensure enough availability of foodgrains for Public Distribution system (PDS), Railways loads double the amount of food grains from last year

Railways is making all efforts to ensure that farm products are picked up on time and also to ensure uninterrupted supply chain for foodgrains. During the lockdown period from 25th March to 17th April 2020, more than 1500 rakes and more than 4.2 million tonnes of foodgrains were loaded. This is a huge increase from last year, when within the same timeframe, 2.31 million tonnes of foodgrain were loaded. Till 17th April, 66 routes have been notified for Parcel Special Trains and time tabled trains are being run on these routes for perishable commodities including fruits, vegetables, milk and dairy products and seeds for agriculture purpose.




Indian Railways introduces innovative ideas and registers record freight movement during COVID-19 lockdown




To ensure delivery of bigger volumes at a faster speed, Railways, in an extremely innovative way, is joining two freight trains together. Normally, one freight train carries 42 covered wagons (2600 tonnes of foodgrains(, but in the new concept two clubbed freight trains are carrying 84 covered wagons with 5200 tonnes capacity food grains in a single path. Annapoorna Trains from North and Jai Kisan Special from South are being run as long distance super heavy fast special Freight trains under this concept. As a result, more than 3.2 Million Tonnes of food grains have been loaded between 1st April-16th April this year as compared to 1.29 Million Tonnes in the same corresponding period last year.
In a big boost to provide protection to Health Care professionals in fight against COVID 19, Railways plans to produce over 30,000 coveralls (PPEs) in April 2020

Railways Production Units, Workshops and field units have started manufacturing Personal Protective Equipment (PPE) Coveralls for medical and health-care personnel who are working amongst the COVID-19 infected patients. In a mission mode, Railways plans to manufacture 1,00,000 PPEs in May 2020. This will set an example for other stakeholders to prepare such protective coveralls for health workers. Railways has also converted more than 5000 of its passenger coaches into mobile quarantine/isolation facilities, in a very short period.




Indian Railways crosses 2 million mark in distribution of free meals




Railway organizations have teamed up to feed hot cooked meals and hope to thousands of people everyday. With the active cooperation of IRCTC base kitchens in various zones more than 20.5 lakh cooked meals have been distributed till 20th April. Distribution of food is being done with the help of RPF, GRP, commercial departments of Zones, State Governments, District administrations and NGOs, even beyond the station vicinity to cater to the food requirements of needy people in areas surrounding the railway stations. Presently about 50000 persons daily are being provided meals on an average by RPF across approximately 300 locations across the country.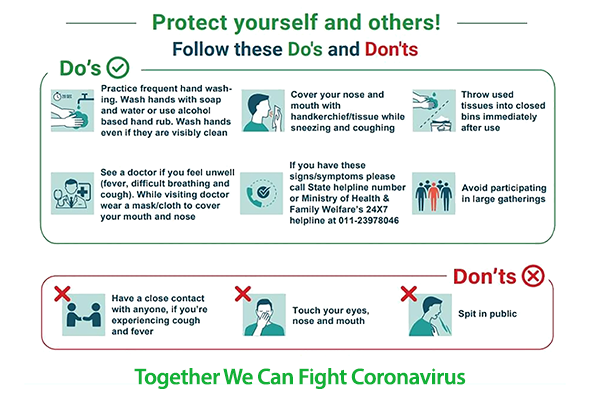 Find Complete information on CoronaVirus (Covid-19)