Major boost to the Supply chain across the country: Railways identifies 67 routes (134 trains) for Parcel Special Trains



READ MORE

Railways has introduced unhindered services of time-tabled Parcel Trains for nationwide transportation of essential commodities and goods. For the first time, a time-tabled schedule for such a large number of parcel trains has been started. This will boost the availability of vital goods required for ordinary citizens, industry and agriculture across the nation. Local industries, e-commerce companies, interested groups, individuals and any other prospective loaders can book parcels through this service. Information regarding this service is also available on NTES website.
Railways continues feeding the Infrastructure sector & ramps up the supply chain during the lockdown

From 1st April to 11th April 2020, Railways loaded and carried 192165 wagons of coal and 13276 wagons of petroleum products (One wagon contains 58-60 ton consignment). An emergency freight control centre is working in the Ministry of Railways to monitor the uninterrupted movement of materials fuelling the power, transport and infrastructure sectors and other essential commodities by rail.


READ MORE
Railways continues to deliver Essential commodities to all parts of the country during the lockdown



READ MORE

Railways transported approx. 6.75 lakh wagons of commodities including about 4.50 lakh wagons of essential commodities like foodgrains, salt, sugar, edible oil, coal and petroleum products since March 23. More than 2.5 lakh wagons of commodities were loaded from 2nd April to 8th April 2020 out of which over 1.55 lakh wagons contained essential items. Railways is working in close association with various Ministries like Agriculture, Chemicals & Fertilizers, Food & Public Distribution to ensure availability of essential items across the country.
Railways takes up in-house production of PPE type overall on mission mode

Railways is aiming to make 1000 PPEs per day for Railway Doctors and paramedics working on COVID care at Railway hospitals. The PPE overall designed at Railways Jagadhri workshop was cleared by DRDO, and the same will be manufactured by a total of 17 Railways workshops across the country. Railways is also considering to supply 50% of these overalls to other medical professionals on the frontline.


READ MORE
Railways' continuous efforts to help the needy: More than 1 million free hot cooked Meals distributed to needy persons



READ MORE

Railways continues to provide cooked meals to needy people through IRCTC base kitchens, RPF resources and contribution of NGOs, in keeping with its social service commitment. The food distribution is being done to the needy people at the railway stations, and even in areas which are at some distance from the railway stations with the help of district authorities and NGOs. Out of nearly 10.2 lakh cooked meals distributed till 10th April 2020, over 60% have been provided by IRCTC, about 2.3 lakh meals have been provided by RPF from its own resources and nearly 2 lakh meals have been donated by NGOs working with the Railway organizations.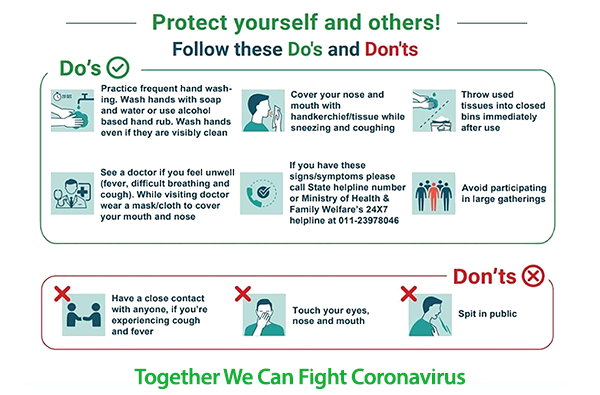 Find Complete information on CoronaVirus (Covid-19)