Business Immunity Platform launched; over 1.75 Lakh visitors from 50+ countries in a week

The Invest India Business Immunity Platform (https://www.investindia.gov.in/bip?utm_source=popup), hosted on the website of Invest India, under the Ministry of Commerce and Industry is working 24X7 as a comprehensive resource to help businesses and investors get real-time updates on India's active response to COVID-19 (Coronavirus). There are 423 Government advisories and notification on the website, along with 205 Blogs, infographics, videos and resources. It is an active platform for business issue redressal, with a team of dedicated sector experts who respond to queries at the earliest.



READ MORE >


READ MORE >

Foreign Trade Policy 2015-2020 extended for one year, among other immediate relief measures

In view of the unprecedented current situation arising out of the pandemic Novel COVID-19, the Govt. has decided to continue relief under various export promotion schemes by granting extension of the existing Foreign Trade Policy by another one year i.e. up to 31st March, 2021. Several other relief measures like extension of exemption from IGST on the imports made under Advance/EPCG Authorisations, extension in the related procedures, by extending validity of Hand Book of Procedures etc., have also been announced to support trade and industry.


READ MORE >

DPIIT sets up a Control Room to monitor in real time the status of transportation and delivery of goods, manufacturing, & delivery of essential commodities

In the event of any manufacturing, transporter, distributor, wholesaler or e-commerce companies facing ground level difficulties in transportation and distribution of goods or mobilization of resources, the same may be informed to the Department at:Telephone: + 91 11 23062487 Email : controlroom-dpiit@gov.in The telephone number will be functional from 8 AM to 6 PM. The issues reported by various stakeholders will be taken up by the Department with the concerned state government, district and police authorities, and other concerned agencies.
G20 Trade & Investment Ministers decide to keep their markets open, and ensure smooth and continued operation of the logistics networks

In his Interventions at the meeting of the Trade and Investment Ministers of the G20 countries, Minister of Commerce and Industry Shri Piyush Goyal said that India calls for further enhancing affordable access to medicines and facilitating easier movement of health professionals across national borders. He added that India has been a dependable and affordable source of efficacious and high quality medical & pharma products. It was agreed that emergency measures for COVID-19 must be targeted, proportionate, transparent, and temporary, and that they should not create unnecessary barriers to trade or disruption to global supply chains, and be consistent with WTO rules.



READ MORE >


READ MORE >

Export prohibited of all ventilators, including any artificial respiratory apparatus or oxygen therapy apparatus or any other breathing appliance/device; No Export of Sanitizers also

The Ventilators were put in the prohibited category on 19th March, 2020 itself. However, the notification (No 53/2015-2020) issued by DGFT, Ministry of Commerce and Industry today further amended the export policy. It widens the ambit of products under the prohibited category and will prevent any scope of export of these items by any other classification. The Government has also prohibited the export of all Sanitizers.
Shri Piyush Goyal, Union Minister of Commerce & Industry and Railways conducted a series of Video Conference meetings with all the stakeholders for discussing the issues faced by them during the lockdown & ensuring their resolution by the appropriate authorities

Industry & trade associations: -Read More
e-Commerce & Logistics industry: -Read More
Export Promotion Councils (EPCs) : -Read More



READ MORE >

Petroleum & Explosives Safety Organization (PESO) takes various measures to address the problems faced by Petroleum, Explosives, Oxygen and Industrial Gas Industries

PESO, under the DPIIT, Ministry of Commerce and Industry, has taken various measures to ensure uninterrupted supply of Oxygen to hospitals and other health care facilities due to the lockdown. These measures include ensuring grant of licences for storage & transport of medical oxygen, extension of licenses (which were expiring on 31.03.2020) for transportation of oxygen and other gases, for storage, transportation, sale, use and manufacturing of explosives and fireworks, etc.
GeM takes a number of initiatives for procurement of goods and services by Government departments in the fight against COVID-19 Pandemic

A dedicated page for COVID 19 related categories has been created on GeM https://gem.gov.in/covid19. With this, all categories recommended by NITI Ayog in medical and auxiliary supplies are now on GeM. All OEMs, resellers and suppliers for the above newly created categories are being identified for onboarding on GeM. The timelines and status of various interventions for procurement for COVID-19 related items have also been relaxed. The World Bank has also increased the procurement threshold at GeM for COVID 19 Response Project, from $ 1 Lakh to $ 1 Million.



READ MORE >


READ MORE >

Relaxations provided on compliances for units/developers/co-developers of SEZs

The Department of Commerce decided to provide suitable relaxations on compliances to be met by units/developers/co-developers of Special Economic Zones (SEZs). Compliances to which the relaxations will apply, include Quarterly Progress Report (QPR), SOFTEX form, Annual Performance Reports (APR), Letter of Approvals (LoA) etc. Development Commissioners of SEZs have also been directed to ensure that no hardship is caused to the SEZs and no punitive action is taken in cases of non-compliance.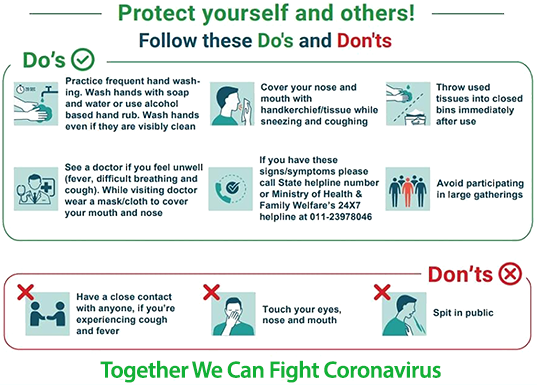 Find Complete information on CoronaVirus (Covid-19)