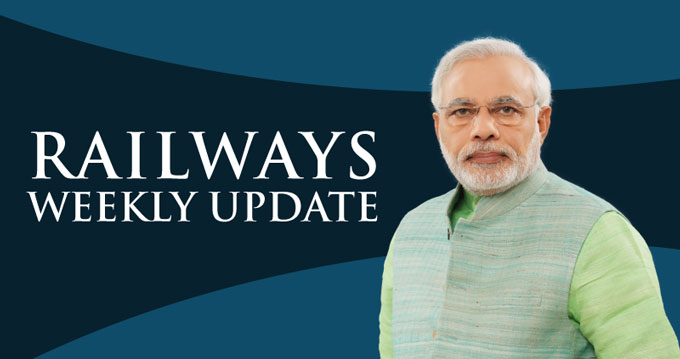 Customer Friendly Initiatives by Railways: Ticket booking through debit cards to become cheaper, new facility of printing ticket details in local language on unreserved tickets
Merchant Discount Rate (MDR) charges will not be levied on passengers for booking railway tickets (at the ticketing counters as well as through IRCTC ticketing website) on payment made through Debit Cards for a transaction value upto Rupees One Lakh. Also, Railways has initiated the facility of printing ticket details in local language on unreserved tickets issued through Unreserved Ticketing System (UTS) with first such language being Kannada.
Major boost to Make in India and Electrification of Railways: First time in the world, Diesel loco converted into electric in two months using indigenous tech
Railways' locomotive production unit in Varanasi has made history by converting a diesel locomotive into an electric one using technology developed in the country. The production unit made use of parts from decommissioned electric locomotives to make the process cost-effective while retaining chassis, bogies and traction motors used in the diesel locomotive.
Indian Army dedicates 3 newly constructed Foot Over Bridges (FOB) to Mumbaikars in a record time; a total of 100 FOBs will be provided for Mumbaikars to cater to the increasing commuter traffic
Three newly constructed FOBs at Elphinstone Road, Currey Road & Ambivali stations built by Indian Army in a record time of approx three months, were dedicated to the nation by the Mumbaikars. They were inaugurated by Mumbai residents, among them fishermen, flower vendors and dabbawallas and ordinary Mumbaikars for whom the suburban railways is a lifeline.
Significant milestone in Bullet train project: Maharashtra government provides land to Railways to build High-Speed Rail Terminal at Bandra Kurla Complex in Mumbai
In an impetus to Mumbai-Ahmedabad High speed Rail Project, land documents for terminal at Bandra Kurla Complex (BKC) were handed over by Mumbai Metropolitan Region Development Authority to National High Speed Rail Corporation Ltd. It will bring development to the satellite towns of Boisar & Virar, as the train will offer commuting option to the people of these areas.